/Size
176mm*250mm
/Group
Role_
#art direction
#layout design
#cover design
#illustration
#logotype
#photography
/Online Reading


︎︎︎ digital




Re: Ordinary

Re: Ordinary- Conversation with Three Creatives from Islanders Space record the interview with the individual bookstore- Islanders Space and the story behind the publication ISLANDERS zine. The book title "Regarding Ordinary" talks about how the three creators learn from the ordinary daily lives and practice their design philosophy.





平日,坪日

坪日-與三位島民雜誌創作者的對話 訪談了獨立書店:島民空間和其獨立刊物的創作理念以及實踐於平日的設計哲學。中文書名取「坪」字諧音,紀錄著三位受訪者在平日的「坪日」中,萌發的創作願景。

中文標題字體設計融合了坪洲海面上的粼粼波光與粗糙的手寫字型,展現出在坪洲日常生活中閃耀的平凡之美。

About Islanders Space

Islanders Space is an individual bookstore located at Hong Kong Penng Chau Island. The bookstore founder Kit and his wife also the urban designer Myriem observe and question aboout the daily phenomena on the island. They made their research project into a individual zine in the form of map called ISLADERS. Through the visual intergration of publication designer, Hung Hui from Studio Orbit, the couples show their questions and findings about the island to the islanders.




關於島民空間

島民空間為一家位於香港坪洲島上的獨立書店,書店老闆Kit及太太同時也是都市設計師的Myriem在觀察和研究島嶼上日常的生活現象後,將研究內容整理成地圖形式的獨立刊物ISLANDERS。透過設計師Studio Orbit的Hung Hui的視覺整合將夫婦倆每期向島嶼提問的內容呈現給讀者。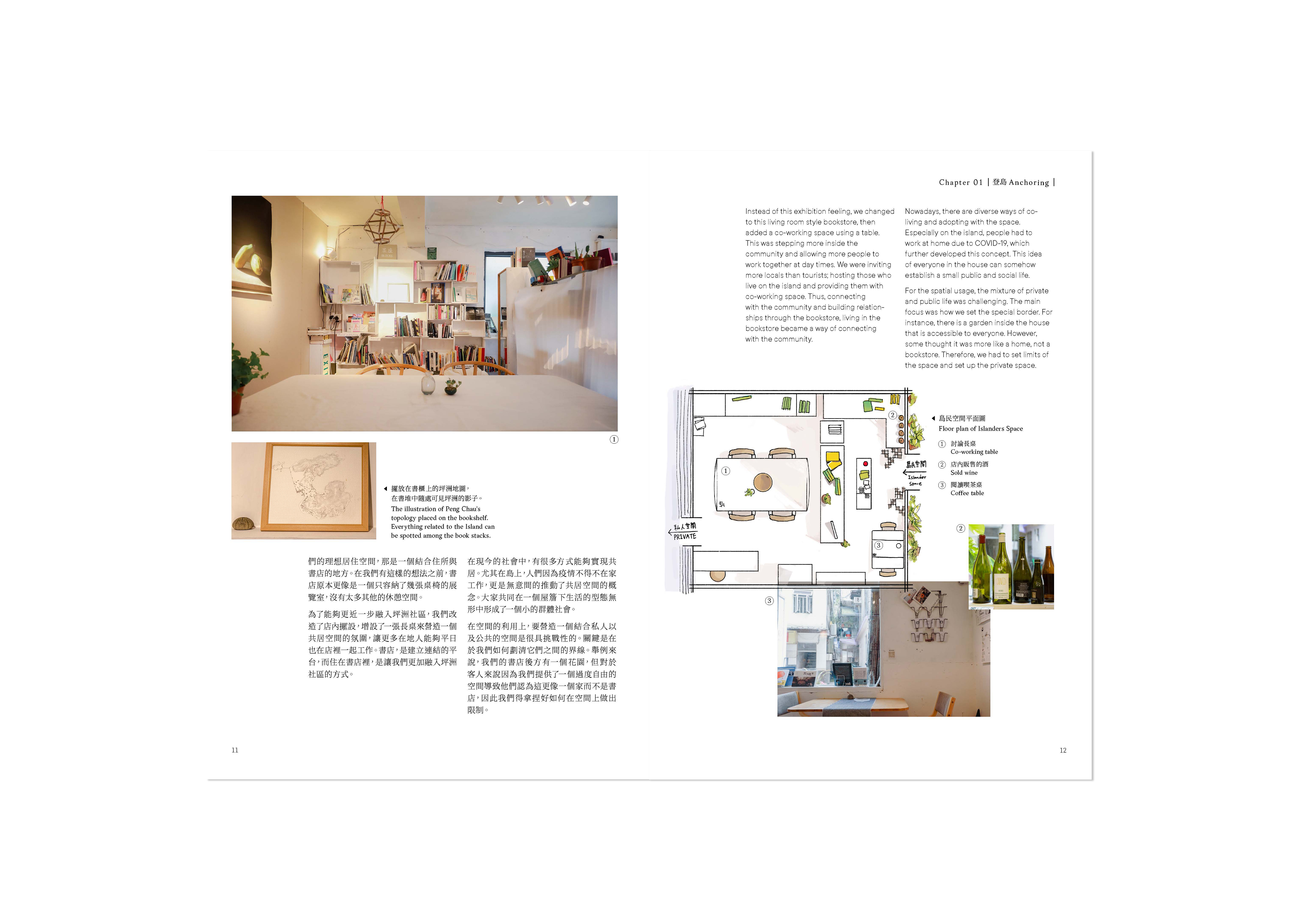 Boarding to Peng Chau, the first thing comes into your eyes is
the stair in case vibrant yellow paint at Peng Chau Pier.
登島後,第一個映入眼簾的是坪洲碼頭邊漆滿鮮黃油漆的石階。
Cover design: Three Chairs

Chairs are the topic of first issue ISLANDERS. As one of the iconic urban symbols in Peng Chau, chairs can be seen as the beginning of ISLANDERS that bring Kit, Myriem, Hung Hui, and the islanders start the conversation with the island.
The three chairs in the yellow cover illustrates a metaphor that
three creatives casually sitting and recalling on their past journey together.



書封設計: 三張椅子

在第一期的ISLANDERS中,島民書店介紹了在坪洲島上隨處可見的椅子現象。
作為坪洲島嶼上的都市象徵之一,椅子同時也是ISLANDERS的起點,讓Kit, Myriem, 與Hung Hui還有島上的居民透過每期的ISLANDERS開始了與坪洲島上的對話。

拿下書套,三張並排在黃色背景中的椅子代表三位受訪者,彷彿三位休閒的靠在椅子上享受著坪洲碼頭吹來的海風,回顧他們一起編織的計畫及旅程。



Dots, lines, surface.
The parallel routes of the three creators started to intersect with each other,
weaving into the project and vision they have never thought up before.
點、線、面。
三人起初毫無交集的行動在某個時刻交會,交織成當初沒預料到的計畫和願景。